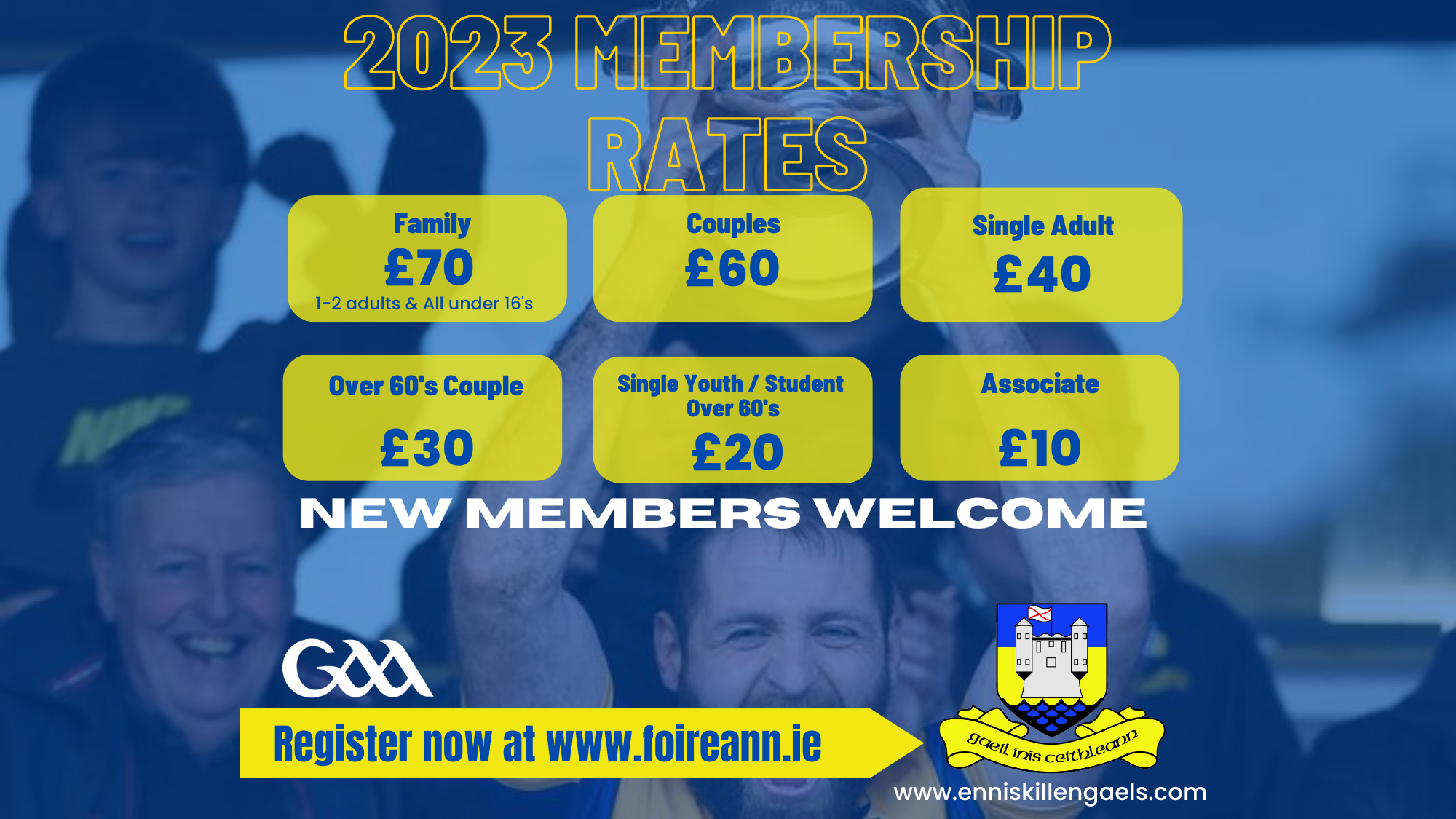 We have moved our membership registration to the Foireann system please follow the guidelines below.
To sign up for club membership please login to www.foireann.ie and follow these steps:
Step 1: Sign into (or create) your Foireann account and update your Profile.
Step 2: Create your Family (if needed). Completing this section correctly is vital if you wish to take out a family or couples membership with the club.
Step 3: Pay membership online using debit or credit card
Please note – All players/mentors must be registered in order to participate in training/ matches.
If anyone has any enquiries, please contact any Club Officer.
Guidance on using Foireann
If for any reason someone is not in a position to register/pay online, the club will be able to facilitate this however we are encouraging people to complete the process online where possible. Hard copies of our registration form can be obtained from the clubhouse.
Please note – All players/mentors must be registered in order to participate in training/ matches.
To pay your membership, please click on www.foireann.ie (You will be redirected to Foireann GAA website to complete your membership and register for the year ahead)
The following steps will guide you through the online process –
1. If this is your first time using this site you will need to register as a new user. If you are an existing user then login with your Foireann username from last year. If you need you can reset your password to gain access using the forgot password process.
2. If registering as a new user for the first time you will receive a verification email to activate your account
3. Once you have activated your account you must update your profile i.e. medical details, photo consent etc.
4. Click Add Club – Select Enniskillen Gaels from drop down list.
5. Click Save. You will now be brought to the home page.
6. To register as a FAMILY (for Family or Couples membership) go to step 8. If registering as Adult, Juvenile or Student continue to step 7.
7. Click Membership from menu on left side. Browse to relevant membership option and select Register and follow steps to complete registration. It is important to select the correct membership option (i.e Adult Player or Adult Non-Player)
8. FAMILY Registration – If you are registering as a couple or as family membership you need to setup adult profiles first, and link all members of your family before clicking register.
9. To set up a Family Profile
o · Any adults need to register individually on www.foireann.ie first (follow steps 1 to 5 above)
o · Once the adults are registered, proceed to setup family profile. Click Family on menu on left hand side.
o · Click Add New Family and name your family.
o · Click Invite Parent/Guardian to add a 2nd adult to your family.
o · The 2nd adult will receive an email to accept the invitation. Once second adult has accepted invitation they will appear under drop down for 2nd Adult.
o · Each child should be added by selecting Add Child. Repeat this for each child you are registering as part of your Family,
o · You are now ready to pay your Membership and register your family for the playing year. Click Membership on menu on left hand menu
o · Select couple or family membership option and follow steps to complete registration. NB select correct membership option for each child.
All female non-players in a family should tick GAA (not LFGA) when editing their profile
When you move forward to complete your family membership, it can only be done by pre-populating information you have already provided to the system. It is your responsibility to ensure that each member of your family has a Foireann account and that you have linked your family together.
Guide to setting up you family on Foireann
Detailed guide to registration on Foireann
If you are still having problems please contact any club officer